God bless the effort of the New Evangelization. It encapsulates, I think, what many of us faithful Catholics have desired to see (more) publicly for years. Even in my youth I always wondered how so many faithful Catholics relied on their opinion as opposed to integrating the words of the Church, words I found as very beautiful. This is, of course, a reflection in my adult years on my youth. Here's what it may look like:
"Mom, we learned at school today ..."
She replies, "That's great, honey!"
"What do you think?"
"That's good, I just think a little bit differently."
"Why?"
She then proceeds to explain that her experience or ideas tell her that things are different.
It teaches kids that personal experience trumps teaching--an ironic parenting technique. Kids grow up and learn many good things but then there's the
real
world. Sex is a
reality
, contraception is a
safe
reality, etc., etc. They grow up, they use what they've been taught that's useful and the rest is their best judgment.
"And the beat goes on...."
There's always room for experience in life. Experience teaches us and forms us. Experience, however, and our experiences, are not principles of action. Experience tests the limits of principle. They help us gather data in order to form principles or see patterns at work.
If one says, "In my experience no one ever listens to you if you use the Bible" is an experience stated as if it were a principle. One who says, however, "With Protestants I've found Scripture is effective but with atheists and agnostics reasoning and philosophy are more profitable." This is experience that indicates a certain prudence. Prudence is a virtue and a sort of principle (Always act prudently) and experience helps us see what that looks like.
I. Witness
This digression aside, I am happy Catholics are coming out in droves to defend the Church, to be public with their faith, to yearn for clarity and understanding, to confront evil in society, to desire God through prayer, to (gasp!) read Scripture, and to dedicate their intellects for the search of a truth greater than all of us as opposed to opinions which are less than themselves. This is a good thing.
Lord, give success to the work of our hands
!
My concern, however, is that we progress like soldiers to a battlefield as opposed to progressing like lemmings toward a cliff.
What do I mean? The word for witness is "martyr." Being a witness to the faith is being a visible sign of Christ's saving love to the world. Witness is public, it's living in such a manner that what you believe is evident from your life. In many cases this is a powerful tool for conversion: one learns in the most concrete way, that is by example, that the faith is livable and it can make you happy (regardless of your state in life). This is evangelization in its simplest form, right? I'm not inclined to think so.
In my view witness attracts and evangelization holds onto. No amount of well-crafted, balanced words will make someone Christian. Only God can produce that sort of effect in our lives and only He can penetrate our stony and prideful hearts. Witnessing to the faith reveals God to the world. It shows those who look on, those who are doubtful, that God is active in the world and personally in our lives. Recall from the Gospel of Mark that Jesus is declared the Son of God
by a man
only
when He dies on the cross.
"Jesus gave a loud cry and breathed his last. The veil of the sanctuary was torn in two from top to bottom. When the centurion who stood facing him saw how he breathed his last he said, "Truly this man was the Son of God!" (Mk 15:37-39)
Truly Jesus Christ was the perfect witness, the perfect martyr. The cross symbolizes many things: sacrifice, love, and rejection. It symbolizes much more. The cross stands as a strange image. It draws people to it, whether by disgust or hatred for it, for sorrow of it, or admiration of it. That's the life we're called to lead: a life that is a witness to the cross. "But may I never boast except in the cross of our Lord Jesus Christ, through which the world has been crucified to me, and I to the world" (Gal 6:14).
II. Evangelization
Evangelization, however is different. Perhaps an image will illustrate what words cannot. Christian life is a fire. Witness is the light of that fire but evangelization is the warmth. We are drawn to a fire by its light yet we are compelled to stay by its warmth.
Evangelization contains with in it catechesis, apologetics, preaching, among other things. Various people have certain gifts given to them by the Spirit: some are able to teach and defend the faith while others are able to effectively convey the Gospel message. The USCCB has defined for us the
goal of the New Evangelization
:
In a special way, the New Evangelization is focused on 're-proposing' the Gospel to those who have experienced a crisis of faith. ... Pope Benedict XVI called for the re-proposing of the Gospel "to those regions awaiting the first evangelization and to those regions where the roots of Christianity are deep but who have experienced a serious crisis of faith due to secularization."
So many of us label our work, our millions of blog posts, and our efforts as "evangelization." This is simply not the case. There is always room for us to relay an experience of strength-in-crisis given to us graciously by Christ. There is room for us to lament insufficient theology, culture, or some offense, but it is not evangelization.
If we are to truly evangelize this culture we cannot simply propose a perspective or practice apologetics (i.e., defend the faith from attacks). We must proclaim the Gospel, that is proclaim the positive claims and truths of revelation, Scripture, and Tradition. If you want to evangelize you must study these things (studying history, science, philosophy, popular culture, etc. doesn't hurt either).
We would all do well to remember that "the wisdom of what a person says is in direct proportion to his progress in learning the holy scriptures--and I am not speaking of intensive reading or memorization, but real understanding and investigation of their meaning" (Augustine,
On Christian Teaching
, IV.para 7).
Likewise, "Eloquent speakers give pleasure, wise ones salvation" (Idem.)
Nothing will inflame our hearts quite like the Word.
Not just in reading and memorizing, but penetrating, praying, and understanding.
Evangelization requires prayer, study, and reflection. It also demands a certain training in rhetorical arts, such as clarity of conveyance, force of images, and knowledge of what will speak to the listener.
So many of us, myself included, feel that we further the cause of evangelization by saying nice words about our experiences of grace and prayer. But this only serves as a light in the darkness. Without a serious commitment to Scripture we give a light without warmth.
The New Evangelization is, as many have pointed out, not new in its message. Rather, the "newness" of it all is perhaps best described as a new 'zeal' for the labor so badly needed.
So those who are attempting to try something new my recommendation would be: look to Scripture, look to prayer, and that beauty which is
ever ancient, ever new
. Thereafter look to Tradition, the Fathers, and the Church. In all this, being an active member of the Church is all the more important: support your local church, your priest, and make yourself a public witness there for our charge is to not only draw new souls to Christ but strengthen those whose
spirit fails within them
.
Continue to shine the light of Christ to the world by your witness and do not cover it with anything. But in order that they might say,
Were not our hearts burning within us while he spoke to us
? (cf. Lk 24:32) it is necessary that we
begin with Moses and all the prophets, interpreting them what refers to Him in all the Scriptures
(24:27).
We can do this in many ways. How you decide to do so is your task. Do not draw anyone to the light but leave them cold.
Our love will keep others close but those who struggle are not looking for us and we are not anyone's fulfillment. Rather we are like John the Baptist, a voice crying out in a world that denies truth and embraces the self.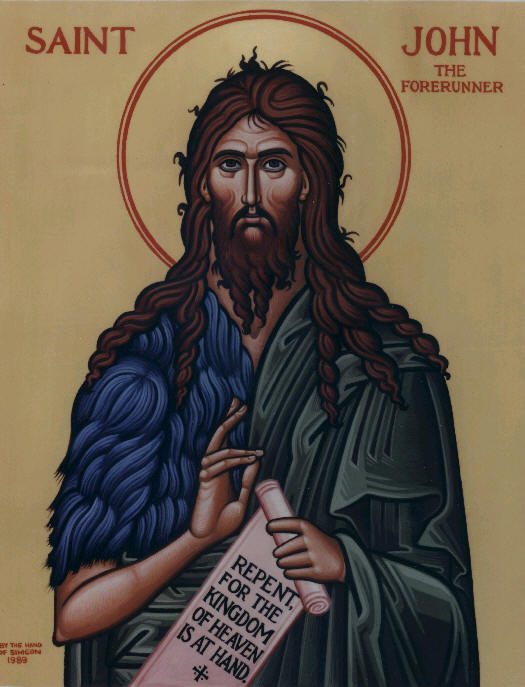 Rather, the Law of the Lord is their joy (Ps 1:2a) and O God, you are my God--for you I long! For you my body yearns; for you my soul thirsts, like a parched land, lifeless, and without water (Ps 63:2). Give them this. Do not show them that it exists, but say to them as John did, "Behold the Lamb of God" and do it in such a way that those who listen hear what you say and follow Jesus (Jn 1:36-37). Only then will our joy be complete (3:29-30).